Royal Navy National Museum HMS Trincomalee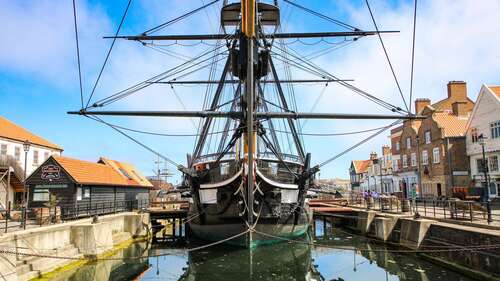 Hartlepool's Maritime Experience is a visitor attraction just down the road in Hartlepool. The concept of the attraction is the thematic re-creation of an 18th-century seaport, in the time of Lord Nelson, Napoleon and the Battle of Trafalgar. HMS Trincomalee, a Royal Navy frigate and Britain's oldest warship afloat is at the centre of the quay. She was built in Bombay, India in 1817. The 190th anniversary of the ship's official launch was on Friday 12 October 2007.

There are hundreds of exhibits in the museum charting the history of the town from prehistoric times right up to the present day. One of the most popular features is the description of the Hartlepool monkey legend. Others include a full size coble boat, a lighthouse, a shell from the Bombardment of Hartlepool and many ships' models and engine displays.

The site saw some improvements in 2006/2007 including a renewed Fighting Ships which is an audio/visual tour of a warship. There is now a new character which is Jim Henshaw, a young powder monkey.

In June 2016 operation of the site was taken over from the local council by the National Museum of the Royal Navy, and it was rebranded as NMRN Hartlepool.